When you create your character, you can choose among various types of wolves. As you gain experience and level up, you may want to develop your wolf by choosing its abilities and skills.
Wolf types
| Name | Description | Picture |
| --- | --- | --- |
| Gray Wolf | The mighty Gray Wolf is the most common of wolves, can fight any enemy with its razor sharp teeth. | |
| Black Wolf | The Black Wolf feels great in tundra and forests where it can hunt down its prey in the blink of an eye. | |
| White Wolf | Fast and dangerous White Wolves can survive freezing cold weather and defeat their enemies in extreme conditions. | |
| Mexican Wolf | Mexican Wolves are smart, fast and skilled in deadly ambushes. | |
| Dhole Wolf | The Dhole Wolf is a superb predator. Fast, agile and extremely strong - will defeat even most difficult enemies. | |
Attributes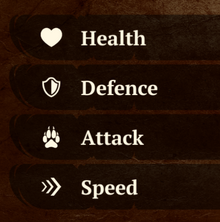 The attributes defining your wolf are Health, Defence, Attack and Speed. You can increase their level using your coins in the customization panel or during the game. Detailed values are available in your character statistics.
The maximum level for Defence and Speed is 60, for Health and Attack - 300.
Ad blocker interference detected!
Wikia is a free-to-use site that makes money from advertising. We have a modified experience for viewers using ad blockers

Wikia is not accessible if you've made further modifications. Remove the custom ad blocker rule(s) and the page will load as expected.